Chat with a Performance Motion Devices expert to discover how our world-class motion control ICs, modules, and boards increase performance, improve reliability, and get your products to market faster.
3 ways we can help you accelerate development
1. High-performance motion control ICs, modules, and boards
Whether you use Brushless DC, DC Brush, or step motors in your design, we have the high-performance motion control solutions you need to build equipment that delivers perfect speed, precision, and smoothness.
2. Easy-to-use motion control development tools
Pro-Motion® Setup Axis Wizard—rapidly set up, tune, and test motion control systems
Our easy-to-use Pro-Motion Windows-based exerciser and data capture program offers ready-to-go capabilities your entire development team will be able to share. A step-by-step axis wizard allows designers to quickly and easily tune position loop, current loop, and field-oriented control motor parameters.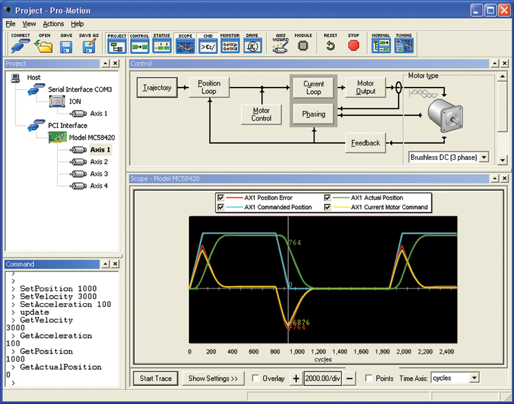 Windows-based software that allows you to rapidly setup, tune, and test your motion control application.
3. A single common motion language
C-Motion® Language—user friendly, yet incredibly advanced
We've invested years of engineering in the creation of C-Motion—our powerful easy-to-use C-based motion language. Plus, to make your work easier, we've created an extensive library of callable routines and error handlers that provide you with all the source code you need for communicating to our motion control ICs, boards and digital drives.
Tested and perfected over years of use and thousands of applications, C-Motion is well documented and works beautifully—with little massaging and no cryptic commands to memorize. Plus it can be easily ported to your preferred microprocessor.